Trump slump as Donald's travel ban 'causes travel meltdown'
Comments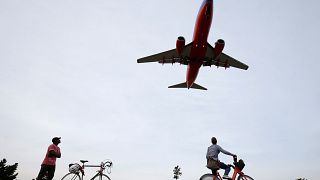 US President Donald Trump has had a disruptive influence on world travel which could worsen as he prepares a revised executive order restricting travel from several Muslim-majority countries.
According to data compiled by ForwardKeys, a travel monitoring group which tracks daily flight reservations, the US president's commitment to imposing travel restrictions has depressed international travel to the United States and caused what the group calls a "meltdown" in US arrivals to the Middle East.
"It is interesting to note that the travel ban has not only impacted travel from the seven affected countries to the USA, as one would expect; it has also affected travel in the opposite direction too," said ForwardKeys CEO Olivier Jager. "At this point, we do not know why exactly but we suspect that United States citizens may be avoiding travel to Islamic countries, fearing that they will not be welcome or that Muslims based in the United States may be avoiding travel fearing re-entry problems or both. Nevertheless, whilst we cannot be sure of the cause, the effect, a 27 percent collapse in bookings to the Middle East, is substantial."
ForwardKeys' data, which compares travel information year on year, shows US bookings to Middle Eastern destinations during the three weeks before Trump signed his executive order were 12 percent higher than the same period a year ago.
President Trump on Monday, March 6 is expected to sign a revised executive order restricting travel to the US from Muslim-majority countries.
The anticipated order is designed to replace his previous edict, signed on January 27, which US courts suspended in early February.
International bookings to the United States from January 28 to February 4 fell by 6.5 percent, a larger slowdown in travel than initially anticipated, suggesting a much larger swathe of the international community felt put off by Trump's initiative.
According to ForwardKeys, Middle Eastern flights represent 2 percent of all international inbound traffic to the United States.
Trump's signing of his executive order caused global chaos at airports as travellers previously allowed to travel were denied entry, families were separated and people detained. The move sparked demonstrations against the order throughout the US' largest airports.
When federal courts suspended Trump's travel order, international bookings to the United States rose 2.2 percent from February 5 to February 16.
But when Trump on February 17 reinforced his commitment to enact a revised travel order, bookings up until February 25 fell by 4 percent compared to the equivalent period last year.
It is a phenomenon the travel industry has coined the "Trump slump."
"Donald Trump's on-off travel ban has created a rollercoaster ride for the travel industry," Jager said. "Some passengers do not know where they stand as they await President Trump's promised new order. In the meantime, uncertainty reigns and the presidential rhetoric appears to be deterring visitors to the USA."
The uncertainty, says ForwardKeys, is lasting throughout the next three months and is global in scope.
Bookings for travel to the United States, the group says, are nearly flat at 0.4 percent behind where they were last year.
International arrivals to Western and Northern Europe in the next three months are down 9 percent and 3 percent, respectively.
Arrivals to Southern Europe in the next three months are projected down by 0.7 percent while Middle Eastern and African arrivals are anticipated depressed by nearly 10 percent.
Arrivals to Eastern Europe and the Asia Pacific region are expected up by 4.3 percent and nearly 5 percent in the next three months, says ForwardKeys.