Iran tests Russian-made air defence system
Comments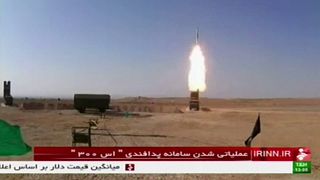 State media in Iran says the military has tested a Russian-made air defence system.
Moscow suspended delivery of the system back in 2010 after objections from the US and Israel.
But Russia ended up handing over the system last year, almost 10 years after the lucrative contract was first signed.
Last year a landmark nuclear deal came into force between Iran and world powers.
The Iranian media says the test of the S-300 system came during a recent military exercise and various flying objects including missiles were targeted.
The system is said to have a range of up to 200 kilometres.