Londoners evacuated as quarter-ton WWII bomb found
Comments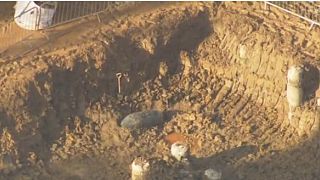 Around 50 residents of an affluent London neighbourhood have been evacuated after construction workers uncovered an unexploded World War Two bomb.
Builders working on a new site which will eventually hold 74 luxury flats were forced to stop work when a 226kg bomb, described as dustbin-size, was discovered on Thursday morning in Queen's Park.
An exclusion zone has forced families to spend the day in a local council centre, before they were put up in a Holiday Inn and fed take-away pizza.
But families will not be returning home as soon as expected, and many more residents could face evacuation as the exclusion zone is to be widened by around 300 metres. It is thought the disarming of the ordinance may take several days.
Councillor Carol Shaw said: "It's a major operation and it could be very dangerous, which is worrying".
26-year-old Dhiren Patel, a local resident and PhD student, added: "It's pretty frightening to know we had a 500-pound bomb a couple of doors away".
Residents have been allowed back to their homes briefly, in order to collect some possessions. But it is as yet unclear when they will allowed to permanently return.
Discovering unexploded World War Two-era bombs is not unheard of in London. Between October 1940 and June 1941, more than 24,000 tonnes of explosives were dropped on London alone. Other industrial cities such as Liverpool, Glasgow and Coventry were also bombed heavily.
It is unknown how many of those bombs did not explode, and may still be dangerous, but the Construction Industry Research and Information Association say that an estimated 15,000 items were removed from UK construction sites between 2006 and 2008
This interactive map, produced by The Bomb Sight Project, in conjunction with the University of Portsmouth, The National Archives, and JISC, shows the known locations of bombs dropped on London by the Luftwaffe during The Blitz.