Egypt appeals court finds Mubarak not guilty over protester deaths
Comments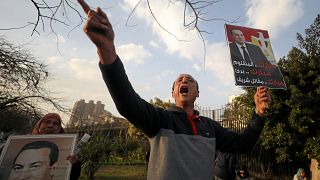 There was euphoria among a handful of Hosni Mubarak's supporters in a Cairo court on Thursday, as Egypt's former president was definitively cleared of involvement in the killing of protesters during the uprising that ended his rule.
The country's top appeals court held a final retrial after a series of challenges.
The former dictator, who has been staying at a military hospital, was wheeled into a helicopter for his first court appearance since 2014.
He was originally sentenced to life in prison for conspiring to murder well over 200 demonstrators during the revolt.
The trial marked a dramatic end to Mubarak's 30-year rule, and many Egyptians also found extraordinary the sight of their former leader appearing in a courtroom cage.
The families of those killed during the uprising were not present in court on Thursday. But one lawyer representing them said the ruling was neither fair nor just.
Mubarak's overthrow led to elections, but today's President al-Sisi is a former army chief – and as Mubarak-era figures are gradually cleared, there are fears that the old regime is back.