British PM appeals for UK stability amid Brexit preparations
Comments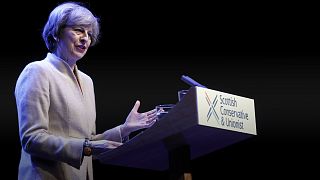 As Britain finds a new international role post-Brexit, the stability of the UK will be crucial.
That plea from the British Prime Minister in a speech in Scotland, where there is increasing talk of a new referendum on independence if the nation is forced into leaving the EU.
Theresa May insisted there is no economic case for breaking up the United Kingdom.
She also cited one example that concerns Scotland.
The SNP play politics as though it were a game. But politics is not a game and Scotland is too important to be neglected. #SCC17pic.twitter.com/wUf0DPwcF7

— Theresa May (@theresa_may) March 3, 2017
"India, our Commonwealth partner, is one of the world's largest spirits markets. But within the EU, Scotch whisky faces a tariff of 150 percent for selling to India.
"And Scotch whisky, the world's preeminent spirit has just a one percent share of the Indian market.
"I am determined that we should do better than that for our key industries."
May also made a promise about decisions made by the Scottish parliament.
"We must avoid any unintended consequences for the coherence and integrity of a devolved United Kingdom as a result of our leaving the EU.
"As I have made clear repeatedly, no decisions currently taken by the Scottish Parliament will be removed from them.
May launched a scathing attack on the ruling Scottish National Party (SNP), accusing it of being "obsessed" with independence, with policies "not in the best interests of Scotland".
"While the SNP propose that decision-making should remain in Brussels, we will use the opportunity of Brexit to ensure that more decisions are devolved back into the hands of the Scottish people."
In last year's Brexit vote, the majority of Scottish voters wanted to remain in the EU, while England and Wales voted to leave.
Rather than lecturing Scots, theresa_may</a> should get on with the day job. <a href="https://twitter.com/hashtag/SCC17?src=hash">#SCC17</a> <a href="https://t.co/AZTYomy5Vf">pic.twitter.com/AZTYomy5Vf</a></p>&mdash; The SNP (theSNP) March 3, 2017
The SNP's deputy leader Angus Robertson defended his party, which pledged in its manifesto to consider another referendum if Scotland is taken out of the EU "against our will".
He said: "The Scottish government has a cast-iron democratic mandate for an independence referendum if that is the chosen route to protect those interests."
The party later tweeted that Theresa May should "get on with the day job" instead of lecturing Scotland.