US Attorney General Jeff Sessions facing calls to quit over Russian contact allegations
Comments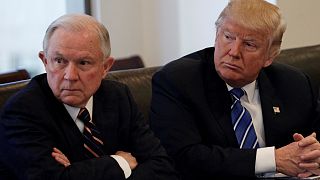 President Donald Trump's Attorney General Jeff Sessions is facing calls to quit after it emerged he spoke with Russia's ambassador during last year's US electoral campaign.
Sessions reportedly met Moscow's top diplomat to America, Sergey Kislyev, twice.
During his January confirmation hearing the former Alabama senator did not disclose the contact, despite being quizzed about it.
Democrats including House Minority Leader Nancy Pelosi have accused Sessions of "lying under oath" and called for him to resign.
Sessions, who denies misleading the Senate, has hit back saying he never met any Russian officials discuss the electoral campaign.
The Kremlin has consistently denied interfering in last year's US election.
Last month, President Trump's National Security adviser Mike Flynn was forced to quit over his links to Russia's ambassador, Kislyak.