Social media goes "Gigi" for Hadid cover on Vogue Arabia
Comments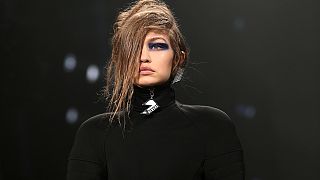 American lifestyle and fashion magazine Vogue this week launched its first-ever Arabic issue and fashion supermodel Gigi Hadid features on its cover.
Hadid, who is half-Palestinian, is featured wearing a sequined headscarf. It is one of two printed editions featuring the model. The second issue is printed in English.
Writing on her Instagram social media account, Hadid said she hoped the magazine's cover will help promote greater tolerance between cultures and nationalities.
"Being half-Palestinian, it means the world to me to be on the first-ever cover(s) of @voguearabia," Hadid wrote. "I hope that this magazine will show another layer of the fashion industry's desire to continue to accept, celebrate, and incorporate all people & customs and make everyone feel like they have fashion images and moments they can relate to."
We present the first cover of Vogue Arabia photographed by inezandvinoodh</a> featuring Model of the Year <a href="https://twitter.com/GiGiHadid">GigiHadid. pic.twitter.com/53NYElQc8t

— Vogue Arabia (@VogueArabia) March 1, 2017
The reception of Hadid on the magazine's cover largely promoted positive comments and shows of support.
But some Instagram users urged the model to use her celebrity status and origins to champion the cause of Palestinians, many of whom feel they live under Israeli occupation in the West Bank.
"Gigi I did not know you are part Palestinian – please use your celebrity pulpit to inform and influence the U.S. to force Israel to lift blockade," wrote commenter planetlynjo. "Please help your people get the world attention they deserve."
Another accused the model of hypocrisy, selectively using her links to Palestine to appear on the magazine's cover while not denouncing Palestinians' suffering.
"Think about it you are a big celebrity with your followers you can change the vision of the world, the vision of Palestine are suffering a lot and you know it but you don't say anything why??" wrote sara_cherr. "Are you ashamed?? With you and more we can change the world."
The model has even been accused of cultural appropriation, an accusation levied against another model, Karlie Kloss, last month for a Vogue photo shoot meant to celebrate diversity.
Gigi Hadid behind the scenes while shooting for Vogue Arabia. pic.twitter.com/zRWrUe4Ibr

— Gigi Hadid News (@GigiHadidsNews) March 2, 2017
According to Vogue Arabia's website, the magazine's issue will be available starting March 5.
It will be Vogue's 22nd edition and will be distributed in the United Arab Emirates, where the magazine is based in Dubai, Qatar, Kuwait, Oman, Bahrain and Saudi Arabia.
Entitled "Reorienting Perceptions", Vogue Arabia's March issue, will feature rising designers and luxury insights from the Middle East.
"With Vogue Arabia, we're making a bold bet on the future of marquee, high-gloss content in the region – across both print and digital," said Shashi Menon, Vogue Arabia's CEO and publisher.