US Attorney General Jeff Sessions faces calls to quit over Russia links
Comments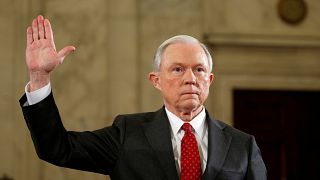 Donald Trump's Attorney General Jeff Sessions has denied discussing "any political campaign" with Russia's ambassador last year.
Sessions reportedly twice met Sergey Kislyak, despite failing to disclose any contact when quizzed about it during his confirmation hearing.
The former Alabama senator is now facing calls to quit by some Democrats who say he lied "under oath".
When questioned by reporters, Sessions said: "I have not met with any Russians at any time to discuss any political campaign and those remarks are unbelievable to me and false and I don't have anything else to say about that."
President Trump's alleged links to Russia have hung over him since his campaign.
US intelligence agencies believe Russian hackers helped Mr Trump defeat Hillary Clinton by gaining access to the Democrat Party's computer systems.
The Kremlin has consistently denied interfering in last year's US election.
Last month the President's National Security adviser Mike Flynn was forced to quit over his links to Kislyak.
When asked about the matter, Russian Foreign Ministry spokeswoman, Maria Zakharova, said: "What is happening in Western, particularly in the US mass media nowadays looks like, in my opinion, a sort of vandalism, media vandalism."
Sessions has been backed by the White House, who claimed the developments are an "attack" by Democrats.
The Attorney General was a controversial figure long before his current post.
He been criticised over his alleged links to the far-right in America, and was denied a federal judgeship in the mid-1980s following accusations he made racist comments.