Northern Ireland election puts power-sharing in the balance
Comments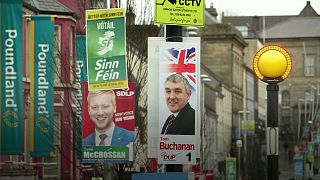 Northern Ireland is holding a snap election after the collapse of its government last month and many see it as a last-ditch attempt to save power-sharing between nationalist and unionist parties.
It follows months of splintering relations culminating a row over a botched renewable heating initiative.
The scheme is thought to have cost the Northern Irish tax payer close to half a billion pounds, and occurred on the Democratic Unionist Party's watch while their leader, Arlene Foster, was an executive minister.
Foster denies any wrongdoing refused to stand aside during an investigation. It was then Sinn Fein nationalists pulled the plug on the parliament by withdrawing support for their power-sharing partners.
The result has been weeks of acrimonious campaigning over hotly contestsed seats which are being reduced from 108 to 90 to cut political costs.
The rift between the pro-British unionists and Irish nationalists has exacerbated fears that devolved power may revert to London for the first time in a decade. That won't happen says Secretary of State for Northern Ireland James Brokenshire:
"The political process in Northern Ireland continues and my absolute intent and resolve is to see that we get devolved government back into place at the earliest possible opportunity and I'm not contemplating anything else."
Smaller, non-sectarian parties campaigning to end the Catholic and Protestant affiliations that have kept the link between religious and party support higher than anywhere in Europe, hope to build on gains a year ago. But no one expects them to impact the balance of power.
But under the Northern Ireland peace dea, elections must lead to coalition talks between the largest unionist and nationalist parties which will almost certainly be the DUP and Sinn Fein and its far from clear if returned they will be able to work together once more.
Northern Ireland election countdown – Will it be a day of anger or apathy? :: Belfast Telegraph — Edmund Curran https://t.co/XN4C16I2d8pic.twitter.com/oB41FRFsZ9

— nuzhound (@nuzhound) March 1, 2017
Many voters say they are fed up with sectarian bickering and plan to stay at home in a province where turnout has fallen at each of the last four elections to the lowest level among the United Kingdom regions.
During the last Northern Ireland Assembly election this happened. Get out and vote! #AE17#MarriageEqualityNIpic.twitter.com/2iJ2iPuS0z

— Ciarán Clarke (@Narcassa) March 1, 2017