Naples airport archeological museum is a world's first
Comments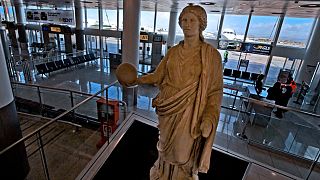 Urania, the Muse of Astronomy, welcomes passengers at Naples Capodichino Airport.
The Roman statue comes from the city's National Archaeological Museum and is the main attraction of this "archaeological airport", the only one of its kind in the world.
The project, developed from an idea of GESAC – the Naples Airport management company – and the Campania Archaeological Superintendence, was realised thanks to an agreement signed in March 2016 between the airport management company and MIBACT – the Ministry of Cultural Heritage and Activities and Tourism.
The airport exhibit, in keeping with the themes of voyage and flight, and the works of the winged divinities, has been set up in the departures and arrivals areas.
The same concepts will subsequently be implemented with the realisation of a multimedia room with innovative digital technology and multimedia communications which will amaze, attract and entertain passengers in the airport.
The idea was born two years ago, when, during some excavation works, a few items and the remains of a rustic Roman home were discovered.
"What could have been an obstacle to our work," said Carlo Borgomeo, President of GESAC, "has become an opportunity to use our airport for promoting the beauty in the world".
Sentiments shared by Alessandro Fidato, director of GESAC Infrastructure:
"Since the airport has been privatised – 100 million euros have been invested for its development. Today, this airport is an high-quality infrastructure: no longer a place without soul, but a space where you can breathe the 'genius loci'".
Piccolo assaggio del tour archeologico in Aeroporto #aeroportoarcheologicopic.twitter.com/sND9NzZE4c

— Aeroporto di Napoli (@AeroportoNapoli) March 1, 2017
Art-works on exhibit in Naples airport
Nike (headless): (certified copy in marble) – original at the National Archaeological Museum of Naples
Triptolemus: (original work) on loan from the Archaeological Museum of ancient Capua
Triclinium: (a table set with original artefacts in pottery, glass and bronze) on loan from National Archaeological Museum of Naples;
Urania: (original work) – National Archaeological Museum of Naples
Mosaics from Pompeii representing "Musicians" and "Actors": (certified copy of mosaics) – National Archaeological Museum
Hermes: (certified copy in bronze) – Herculaneum, Villa dei Papiri