French elections under scrutiny
Comments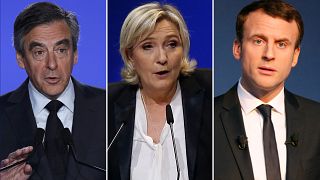 With less than two months remaining before the French go to the polls, the run-up to the presidential elections has so far been tainted by scandals.
Corruption allegations against conservative presidential candidate Francois Fillon and far-right candidate Marine Le Pen of the National Front have plunged many French citizens into uncertainty and panic.
According to reports, millions of voters are still undecided.
"I don't know who to vote for anymore," said Frenchman Guy Lacombe. "I'm currently living abroad and to tell you the truth, I feel ashamed. We've become a laughing stock. The Socialist party doesn't know where to stand and the right-wing has been plagued by scandals."
Francois Fillon recently accused his opponents in the government of fomenting a scandal in an attempt to scuttle his presidential campaign, as a poll showed him no longer favourite to win power.
His status as favourite to replace Francois Hollande next spring has evaporated in the past three weeks over whether or not his wife did real work for hundreds of thousands of euros in taxpayers' money when she was paid as his assistant.
"I will not give up, I will not surrender, I will not withdraw," announced Fillon. "I will be in this until the bitter end, because it is not just me who is under threat, it is democracy itself."
Marine Le Pen, who took to twitter on several occasions to humiliate her rival, is now facing the French legal system over possible embezzlement charges of her own.
Her chief of staff was put under formal investigation after a day of questioning over the alleged misuse of EU funds to pay parliamentary assistants.
In reaction to the news, Le Pen said that she formally denied any wrongdoing in a case that she said was being used to undermine her campaign.
Le Pen is consistently tipped in opinion polls to win the April 23 first round of the two-round race but she is also tipped to lose the two-way runoff ballot on May 7 – to either Fillon or another independent candidate, the centrist Emmanuel Macron.
Francois Fillon vows to stay in French presidential race despite summons from magistrates over 'fake jobs' scandal https://t.co/TBLvqfHuVd

— The Telegraph (@Telegraph) March 1, 2017