Trump addresses Congress: immigrants denounce speech as 'Fear-mongering and divisive'
Comments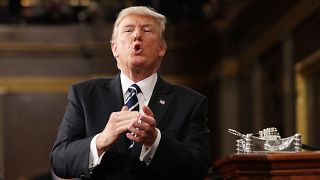 Many in Los Angeles' large Latino community tuned in to see president Trump's first primetime address to congress. Most wanted to know about his plans on immigration.
The president has sent mixed signals over what he might do with those living illegally in the US. Those watching at one viewing party were left disappointed.
Immigrant rights activist Carolina Gamero said: ''You know, I was actually a little disheartened to hear about what he was talking about because it sounded like a lot of fear mongering and a lot of scapegoating of immigrant communities. It sounded like he was using a very criminalising lens when talking about immigrants saying that 'we are really focusing on the bad ones'.
RJ, an undocumented immigrant from the Philippines said: "We are going to be here to protect one another and to resist what ever attacks that will come to us by this administration."
Earlier on Tuesday evening a protest rally in support of immigrant rights was held outside the White House.
During his speech Trump revealed he would set up a special agency to tackle what he called ''immigrant crime''.