Press freedom fuels tensions between Berlin and Ankara
Comments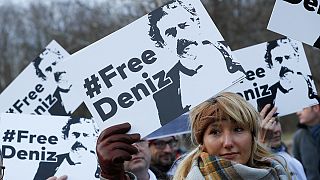 German – Turkish relations are becoming increasingly strained over the arrest of a Die Welt reporter in Istanbul, with Berlin summoning Ankara's ambassador in protest.
German-Turkey relations are facing one of their greatest challenges of the modern era

German Foreign Minister
Politicians and journalists have also been demonstrating outside the Turkish embassy calling for the release of Deniz Yucel.
The German newspaper Die Welt has mounted a huge sign proclaiming "#freedeniz" on the roof of its building in central Berlin.
At the same time there were further protests against in at least ten other German cities as well as in Switzerland and Austria.
Both heads of Green Party showed up in front of Turkish embassy to demand release of Yücel #FREEDENIZcem_oezdemir</a> <a href="https://twitter.com/GoeringEckardt">GoeringEckardtpic.twitter.com/0VtM9SG3qv

— Charlotte Potts (@chapotts) February 28, 2017
Foreign Minister Sigmar Gabriel described German- Turkey relations as "facing one of their greatest challenges of the modern era".
"The situation of Deniz Yucel throws a spotlight on the fact that Germany, and Turkey and the EU and Turkey, have very different ideas about the application of the basic principles of a constitutional democracy and the value of the freedom of the press," said Gabriel.
Ten years
Yucel who is a German -Turkish dual national with Die Welt faces up to 10 years in jail after being arrested on charges of propaganda in support of a terrorist organisation.
Yucel has been questioned by Turkish prosecuters about his ties to a leftist hacker group alleged to have obtained emails from the private account of Berat Albayrak, Turkey's energy minister and Erdogan's son-in-law, Yucel's lawyer said.
They have also questioned him about a 2015 interview with Cemil Bayik, a senior member of the outlawed Kurdistan Workers Party (PKK).
He is the first German journalist held n a widespread crackdown in Turkey following a failed coup in July.
The number of jailed journalists in Turkey reaches to 200 https://t.co/5tS4FcRJ9N

— Bulent Kenes (@bkenes) March 1, 2017
German-Turkish ties have been strained over the post-coup arrests and sackings of tens of thousands of people, and by a federal probe into possible spying by Turkish clerics in Germany.
At the same time, Berlin is counting on Turkey to uphold a deal with the European Union to prevent refugees from crossing to Greece.