Watch: Train ploughs into car at level crossing in Poland
Comments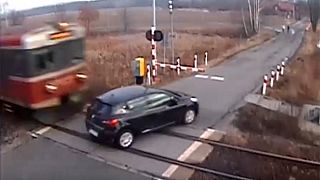 This is the moment a train ploughs into a car in Poland.
The driver of the Renault Clio, who was sober at the time of the incident according to police, was taken to hospital with serious injuries.
CCTV footage of the level crossing shows the vehicle approached the tracks around 30 seconds after the barriers had been fully lowered.
The incident unfolded at Czerwionka-Leszczyny near the city of Katowice, around 80km from Poland's border with the Czech Republic.
The smash happened on February 16 but the footage has only just been released by Polish Railway Lines (Polskie Linie Kolejowe) to urge drivers to obey traffic laws.