Police evacuate Israeli houses judged to be on Palestinian land
Comments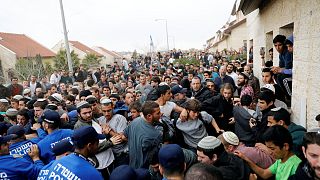 Israeli police have begun evacuating nine houses judged by the Supreme Court to have been built illegally on Palestinian land in the occupied West Bank.
The dwellings in Ofra, a settlement of some 3,000 people, has been at the centre of a years-long legal battle, which was initially brought before the High Court on behalf of the Palestinian landowner.
Israel's right-wing is up in arms about the ruling.
Three weeks ago, the Israeli Parliament sparked international condemnation by retroactively legalising some 4,000 settler homes built on privately-owned Palestinian land.
The new law did not apply to the nine residences in Ofra because of standing court rulings.
Most countries consider Israeli settlements on land occupied in the 1967 Middle East War to be illegal.
Palestinians wanting to establish a state in the West Bank and Gaza Strip say the settlements could deny them a viable country.