German police launch series of anti-terror raids linked to mosque
Comments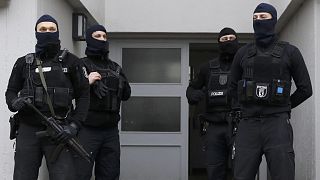 German police have launched a series of anti-terror raids across Berlin linked to a mosque visited by the Christmas market truck attacker Anis Amri.
The latest crackdown follows a decision to ban an association called ''Fussilet 33'' which ran the mosque.
Police said more than 450 officers searched 24 locations across the capital early on Tuesday.
German authorities believe the mosque, which was shut last week, was frequented by Amri and other Islamist extremists. They also suspect it was used to funnel combatants and equipment to conflict zones.
The 24-year-old Tunisian national killed 12 people in December when he ploughed a stolen truck into a Christmas market in the German capital. Amri was shot three days later in Italy.
Since the attack, Angela Merkel's government has moved to toughen up security. Measures proposed include accelerating the deportation of rejected asylum seekers and monitoring suspected extremists.