Romanians continue calls for government to resign
Comments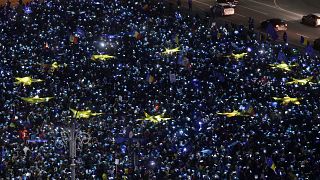 Romanians staged another anti-government protest on Sunday night, standing together to form a European Union (EU) flag to signal support for the bloc and its values.
Several thousand protesters gathered in Bucharest's Victory Square, the 27th consecutive evening of protests against the centre-left government.
The protesters carried "Resist" badges and called for the government's resignation. Using sheets of paper, they formed a large EU flag as a mark of support for the bloc's values.
Romanians have been taking part in nightly protests since the government passed an ordinance last month – now rescinded – that would have eased penalties for some official misconduct.