Le Pen lashes out at rivals as Macron tops latest polls
Comments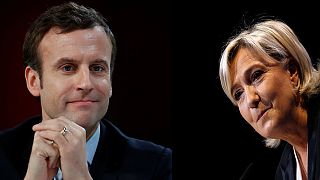 French far-right leader Marine Le Pen has gone on the attack slamming her opponents in the race for the presidency. During a rally in the western city of Nantes she set her sights on her centrist rival Emmanuel Macron, accusing him of being out of touch and of being backed by the media.
"How can the pro-European fanatic Emmanuel Macron hope to be understood by Britain which has voted for Brexit, by Italy who has just said no to the European Union by referendum, by the Netherlands which are getting ready for a victory of the nationalists with my friend Geert Wilders," Le Pen told supporters.
French farmers to back Marine Le Pen amid hopes the hard-right leader will 'free them from EU straitjacket' https://t.co/DvdoPNiEsfpic.twitter.com/4G8p10w44E

— Daily Express (@Daily_Express) February 26, 2017
Le Pen's comments came after the latest polls
showed Macron enjoying a jump in support.The new data still has Le Pen winning the first round on April 23 but losing to Macron in the run-off on May 7 by an increased margin of 20 points.
Latest Le_Figaro</a> / Kantar poll: Macron opens up 5 point gap over Fillon in I round, leads Le Pen by 16 in run off <a href="https://t.co/pZbjdyXdWx">https://t.co/pZbjdyXdWx</a> <a href="https://t.co/nxQ9SuYvap">pic.twitter.com/nxQ9SuYvap</a></p>— Alberto Nardelli (AlbertoNardelli) February 26, 2017
At the same time both Le Pen and conservative candidate Francois Fillon have become more deeply embroiled in legal problems. Both are accused of misusing public money by using fake parliamentary aides, while Le Pen faces a separate investigation into the funding of election campaigns in 2014 and 2015.
An aide and a political ally to Le Pen were charged last week, while Fillon faces a full judicial inquiry into claims he paid his wife and children for fake parliamentary jobs.
They both deny wrongdoing and claim the investigations are politically motivated.
The polls also put Socialist party candidate Benoit Hamon in fourth place in the first round and hard-left candidate Jean-Luc Melenchon in fifth.
#Macron is edging closer to #France's presidency – #LePenhttps://t.co/8c6LmY5qKl ~ TheEconomist</a></p>— Vassilios Tzounakis (tzounakis) February 26, 2017