France election: clashes in Nantes ahead of Le Pen rally
Comments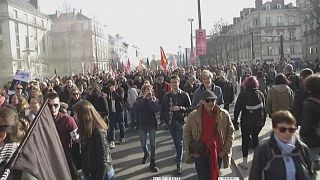 There have been clashes in the western French city of Nantes, as two-thousand people gathered to demonstrate against Marine Le Pen.
Saturday's unrest came ahead of the far-right presidential candidate arriving in the city. She is due to hold a rally on Sunday.
Police say three officers were wounded and several shop windows smashed. Tear gas and stun grenades were used to disperse the crowd.
Four people were reportedly arrested.