Iran proud of "The Salesman" and its Oscar triumph
Comments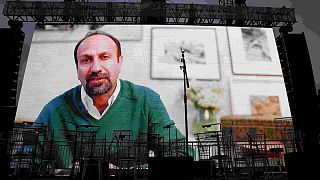 Iran is proud of the Oscar triumph of Ashgar Fahradi's film, The Salesman.
The film was already a hit in Iran, breaking all box office records since it came out six months ago.
But opinion is divided. Does the Oscar reward the political message – or a straightforward work of art?
"Asghar Farhadi absolutely deserved to be awarded. He is the best director presently in my opinion, who is trying hard to present artistic works. Therefore, we cannot say it was a political move," said film and performing arts student, Alireza Azizi
"His (director Asghar Farhadi's) movie is certainly a good film to have reached this stage but politics have played a role, too. There is opposition against Mr. Trump inside American society right now, particularly from their art communities and educated people," added Kianoush Ebrahimzadeh, a civil engineering student.
Iranian state television has even basked in the film's reflected glory, while reminding viewers that Asghar Farhadi boycotted the ceremony.
Foreign Affairs Minister Jayad Zarif voiced his pride about the Oscar and the director's stance against the so-called "Muslim ban" which forbade Muslims from certain countries from travelling to the US.
Asghar Farhadi refused to travel to the States for the Oscars ceremony and, in doing so, became a symbol of the opposition to Donald Trump.
"(…)it is comforting to know that at a time when some politicians are trying to promote hate by creating divisions between cultures religions and nationalities the cinema community has joined with the people in a common show of unity to announce its opposition," Farhadi told reporters.
The 44-year-old Iranian director picked up the best screenplay award for the Salesman at Cannes as well as the best actor prize for one of its stars, Shahab Hosseini.