#HRC34: UN Secretary-General promises to speak out against rights abuses
Comments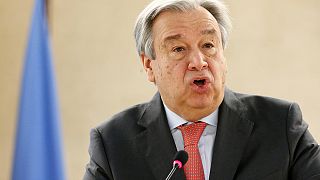 UN Secretary-General António Guterres has opened the 34th Human Rights Council with a personal pledge to speak out against abuses.
The international community must not escape its responsibilities.

UN Secretary-General
He told delegates in Geneva that human rights are "an intrinsic part of all that we do – and all that we are."
Disregard for human rights is a disease that is spreading– north, south, east and west. The Human Rights Council must be part of the cure. pic.twitter.com/iswNypJXne

— António Guterres (@antonioguterres) February 27, 2017
"We are increasingly seeing the perverse phenomena of populism and extremism feeding off each other in a frenzy of growing racism, xenophobia, anti-semitism, anti-Muslim hatred and other forms of intolerance.
"The rights of refugees and migrants are under attack. Human trafficking is on the rise. And with so many people escaping war, the international community must not escape its responsibilities.
"We must forcibly resist calls to reinstate torture. Torture is cowardly, produces no usable information and shames every country that inflicts it," Guterres said.
"The corpus of human rights is indivisible and interdependent. We cannot pick and choose, emphasizing some and ignoring others." #HRC34pic.twitter.com/IOkQvkBnys

— UN Geneva (@UNGeneva) February 27, 2017
The UN's High Commissioner for Human Rights, Zeid Ra'ad Al Hussein stressed that the key to durable peace and successful development worldwide was an acceptance of fundamental human rights.
"Only by first accepting fundamental human rights could all else: durable peace & success in development become possible." Zeid to #HRC34pic.twitter.com/Tqpzyiw7xT

— UN Geneva (@UNGeneva) February 27, 2017
Palestinian leader Mahmoud Abbas also gave an address in which he urged the international community to "come to the defence of" a two state solution in the Middle East.
This comes amid reports US is considering pulling out of the Human Rights Council for allegedly unfairly targeting its ally Israel.