US: almost 30 injured as truck ploughs into Mardi Gras crowd
Comments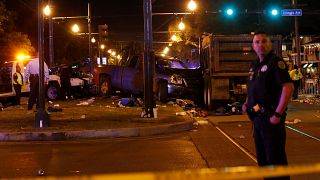 Nearly 30 people have been injured after a pickup truck ploughed into a crowd watching the main Mardi Gras parade in New Orleans.
Police say the driver appeared to be "highly intoxicated."
The truck hit three other vehicles, before veering towards the spectators, accounting to reports.
Although there was chaos immediately after, the parade itself continued with little disruption.
A man is being questioned by police.
Truck plows into Mardi Gras parade crowd in New Orleans https://t.co/Otma7WsLeX

— Wall Street Journal (@WSJ) 26 February 2017
It is not the only incident to mar Mardi Gras festivities. Earlier on Saturday, a gun went off accidentally in a portable toilet along the route of another parade – leaving one person wounded.