Residents injured in fire at asylum shelter in Sweden
Comments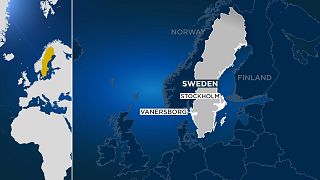 Up to 20 people have been injured in a fire at a centre for asylum seekers in Sweden.
Most are said to have suffered from smoke inhalation but two were hurt after jumping out of a window.
It's not known what caused the fire overnight from Saturday into Sunday. Police are treating it as suspected arson, but that's routine in cases where the cause is still unknown.
One resident at the centre at Vanersborg, in the southwest of the country, said the fire spread quickly but had no comment on what may have started it.
"A lot of people stay up late and we have never had an incident like this before here. We have a very nice relation especially here in the city, so we don't worry at this time," Adnan Abdul Ghani told reporters.
Sweden saw a sharp increase in asylum applications in 2015.
It has led to some tensions, with demonstrations both for and against migrants, and there have been some isolated attacks on foreigners.
The country has been debating controversial comments by US President Donald Trump, who hinted recently at a dreadful immigrant-related event in Sweden – that never happened.