Pregnant women and children among migrants brought ashore in Sicily
Comments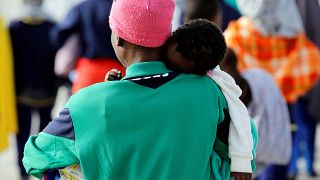 More than 700 migrants have been brought to dry land in the Sicilian port of Augusta after being picked up by a coastguard ship.
Pregnant women and unaccompanied children were among those seen arriving.
Almost four times that number have been rescued from the Mediterranean over five days.
Figures suggest the numbers are up on the same period last year.
In 2016, a record 181,000 boat migrants reached Italy and more than 5,000 died in the Mediterranean. Since 2015, more than a million-and-a-half migrants have come to Europe.
To stop the flow, Italy and the European Union earlier this month pledged to fund migrant camps in Libya run by the UN-backed government, and to supply equipment and training for the fight against people smugglers.
But humanitarian groups have criticised the deal, saying Libya is not safe.