Video: Red Bull's playstreets returns
Comments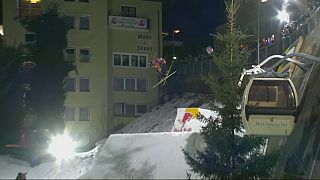 Hundreds of fans packed into the centre of Bad Gastein in Austria to watch 19 skiers take on the seventh edition of Red Bull's playstreets contest.
Freestyle ski tricks were a plenty as competitors made their way around the urban slopestyle course.
Sweden's Jesper Tjaeder took top honours beating Andri Ragettli of Switzerland.
Lukas Muellauer thrilled his home support with third.