US shooting investigated as potential hate crime
Comments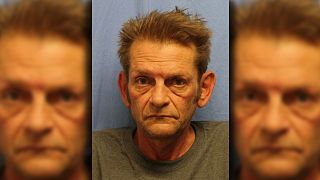 A 51-year-old man from Kansas has been charged with killing an Indian engineer and wounding two other men when he opened fire in a bar.
Federal authorities are investigating the case as a possible hate crime.
Outrage
The shooting on Wednesday night led news bulletins in India and triggered outrage on social media.
Critics voiced concerns that US President Donald Trump's "America First" position on immigration and jobs has fuelled a climate of intolerance.
The scene outside Austins Bar&Grille in Olathe after triple shooting. Police still searching for suspect pic.twitter.com/66hbGgNyjM

— Tom Dempsey (@KCTomDempsey) February 23, 2017
The details
Navy veteran Adam Purinton has been charged with one cout of pre-meditated murder and two counts of attempted pre-meditated first-degree murder.
Purinton is accused of killing 32-year-old Srinivas Kuchibhotla and wounding 32-year-old Alok Madasani in Austin's Bar and Grill in Olathe, Kansas on Wednesday.
He is also accused of wounding 24-year-old American Ian Grillot, who was shot as he tried to intervene.
Adam Purinton allegedly used ''racial slurs'' before he started shooting Wednesday night, killing one https://t.co/1dYPAyeuP8pic.twitter.com/ApfT446tA7

— The Boston Globe (@BostonGlobe) February 24, 2017
Officials would not discuss a possible motive for the attack.
The FBI is looking at whether it was a hate crime.
Be angry
At Kuchibhotla's home near the Indian city of Hyderabad, relatives backed government calls to ensure the safety of Indians living in the US.
"The government should voice out this strongly, because our brothers, sisters and our relatives are there," said the victim's brother, Venu Madhav.
"Don't be shocked, be angry!" Siddarth, a well-known South Indian actor tweeted to his 2.6 million followers. "Trump is spreading hate. This is a hate crime! RIP #SrinivasKuchibhotla."
Kansas shooting shatters Indian engineer's American dream: https://t.co/Eb30aYxSXMpic.twitter.com/jCHMeQH5Kd

— Reuters Top News (@Reuters) February 24, 2017
US embassy condemns shooting
A White House spokesman did not immediately respond to an email requesting comment.
The US embassy in New Delhi condemned the shooting, saying in a statement that the US welcomes people from across the world to visit, work, study and live.