France: has alliance boosted Macron's presidential chances?
Comments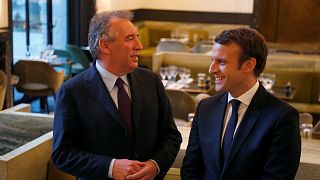 Independent French presidential candidate Emmanuel Macron appears to be getting a boost amid his new alliance with influential centrist Francois Bayrou.
His first round score is up by 3.5 points, according to one opinion poll – putting him ahead of conservative candidate Francois Fillon.
Hailing the partnership, Macron said: "The step that was taken, our common decision on an alliance that we took together is, in my opinion, a real turning point not only for this campaign, but also for the French political life, because it shows the capacity to go beyond classical divisions of our political life."
France: bayrou</a> steps down to support <a href="https://twitter.com/EmmanuelMacron">EmmanuelMacron, yjadot</a> withdraws candidacy to back <a href="https://twitter.com/benoithamon">benoithamon. Things starts to get exciting.

— Asher Serrana (@heyitsmeMisterA) 23 February 2017
But what do voters make of the alliance? One which saw Bayrou drop out of the presidential race, one which could tip the balance in Macron's favour.
"When you're neither on the right nor on the left, in fact you're just on the right. France doesn't need a politics of the right at the moment, they've already had one," said one man in Paris.
Another added: "It's a happy medium, and I am really happy about this union with the centre. It suits me at the end of the day."
Polls see Macron as the favourite to become president if he beats Fillon through to a run-off round against Marine Le Pen, leader of the anti-immigrant and anti-EU National Front.
Can Emmanuel Macron pull off a boldly liberal French presidential campaign? https://t.co/GzFOVrHqAFpic.twitter.com/SwArW5WPeU

— Newsweek (@Newsweek) 23 February 2017