De Lima arrested as Duterte cages his biggest critic
Comments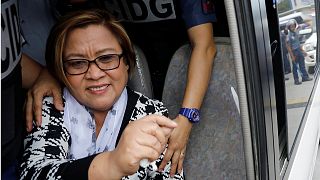 One of the fiercest critics of Philippines President Rodrigo Duterte, Senator Leila de Lima is in police custody following her arrest.
She was accused of drugs offences just weeks after opening an investigation into alleged extrajudicial killings sanctioned by Duterte in August last year.
"Like what I have always said and I will repeat now, I am innocent, there is no truth, it's all lies. The accusations against me that I allegedly benefited from drugs, allegedly received drug money, allegedly supported and protected drug convicts – they are all lies."
Sen. Leila M. de Lima on her arrest #OneForLeila: https://t.co/bETnlQEOW1 via YouTube</a></p>— Leila de Lima (AttyLeila) February 24, 2017
The prominent lawyer and former justice secretary had spent Thursday night in the Senate building after a judge ordered her arrest on criminal charges filed last week.
Justice Minister Vitaliano Aguirre is a close ally of the president, and led the investigation into another thorn in Duterte's side, Senator Antonio Trillanes.
"Led by the Philippine National Police members of the HSS, (Headquarters Support Service), and CIDG, (Criminal Investigation and Detection Group), will make sure that she's safe and secure while in our custody," said National Police spokesman Dionardo Carlos
For as long as I can, I will continue to fight. They cannot silence me. #OneForLeila#LabanLeila

— Leila de Lima (@AttyLeila) February 18, 2017
Duterte verbally assaulted de Lima on live TV every day of her investigation and sees her as a nemesis, once suggesting she "hang herself". Her probe went beyond his presidential office and dug into his 22 year-reign as Mayor of Davao City.
In the #Philippines, senators vote to reopen probe into the Davao death Squads https://t.co/Oloa3oibt7

— Dr Agnes Callamard (@AgnesCallamard) February 22, 2017
It turned up no proof against the president, but little has been produced to condemn de Lima.
While the Speaker of the House, another Duterte ally, claimed the arrest was a victory in the war on drugs, estimated to have cost 7,700 lives in eight months, other figures including the Vice-President have dissented.
#Philippines has traded a 42% drop in theft & carjacking for a 51% increase in murder https://t.co/mk7yk1ZndL

— Greg Poling (@GregPoling) February 23, 2017