Tillerson arrives in Mexico on "mission impossible"
Comments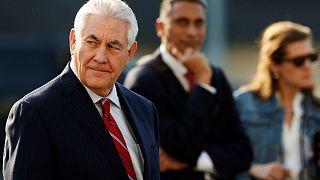 US Secretary of State Rex Tillerson has arrived in Mexico on what analysts see as a "mission impossible". The new chief at the State Department must try to smooth over relations in the face of outright anger at his boss's new immigration rules.
The plans consider almost all undocumented immigrants subject to deportation, and includes sending those who enter the US illegally from Mexico, back across the border even if they don't belong there.
Mexico's foreign minister, Luis Videgaray is not impressed:
"I want to say clearly and emphatically that the government of Mexico and the Mexican people do not have to accept provisions that one government unilaterally wants to impose on the other. We will not accept it, because there's no reason why we should, and because it is not in the interests of Mexico."
Videgaray also warned the US about treatment of Mexican citizens:
"The Mexican government will not hesitate in going to international organisations, starting with the United Nations, to defend human rights, liberties and due process for Mexicans abroad according to international law."
Trump's proposed wall between the US and Mexico has sparked daily protests. The barrier and who will pay for it hasn't gone away, but for now Trump has agreed not to speak publically about it.
It means Tillerson can at least try to focus on areas where the two countries might possibly find agreement.
The US head of Homeland Security, John Kelly is also visiting Mexico with the aim of "walking through" the implementation of the new immigration guidelines.
An estimated 11 million undocumented immigrants live in the US, many of them from Mexico. President Donald Trump made immigration and border control a key part of his campaign.