Pakistan: Lahore bomb blast kills at least eight
Comments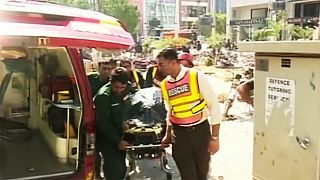 In Pakistan, at least eight people have been killed and dozens more wounded in a bomb blast in the eastern city of Lahore.
The powerful explosion ripped through an upscale shopping centre. The area was reported to have been busy at the time.
It is the latest attack to rock Pakistan following a wave of bombings claimed by Islamist extremists. Last week, 90 people were killed at a popular shrine in the south of the country by an ISIL suicide bomber.
Security forces cordoned off the residential neighbourhood, which is also home to banks and coffee shops.
Initial reports suggested an electricity generator had exploded but police later confirmed it was a bomb.
Thursday's attack is the second to hit Lahore in a fortnight. Earlier this month, a suicide bomber killed at least 13 people and wounded more than 80 during a protest near the provincial assembly.