Ecuador election goes to an April run-off
Comments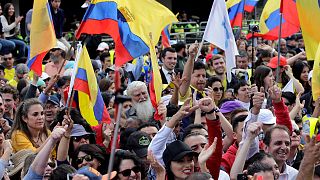 The presidential race in Ecuador is to go to a second round run-off between leftist government candidate Lenin Moreno and ex-banker Guillermo Lasso.
Although Moreno was the clear leader in Sunday's election, he failed to to get the 40 percent of votes and a 10 percentage-point difference over his nearest rival needed to win outright.
Ecuador's fragmented opposition is now expected to close ranks around Lasso in a runoff amid anger over an economic downturn and a series of corruption scandals, potentially ending a decade of leftist rule in Ecuador.
Moreno, who is paraplegic since being shot during a robbery some two decades ago while he was out buying bread, vowed to become one of the world's rare disabled presidents.