Alitalia workers stage one-day strike
Comments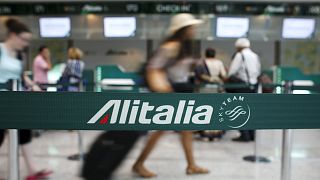 Alitalia workers are staging a one-day strike.
Around 60% of the Italian flag carrier's flights have been cancelled.
It comes after a meeting between the troubled airline's management and unions was cancelled on Wednesday.
What is the dispute about?
The talks were to have focused on renewing a national contract and an upcoming business plan involving job cuts at the loss-making former national flag carrier.
What they are saying
"We need a drastic and courageous plan," speaking in January,chairman Luca Cordero di Montezemolo warned redundancies are possible.
Management mistakes "should not fall on the shoulders of the employees," warned Economic Development Minister Carlo Calenda.
Is there much disruption?
Some.
Delays were limited at Rome's Fiumicino airport this morning, for example.
Alitalia has adopted an emergency plan and found alternative solutions for 90% of its passengers.
Information about the strike can be found at the company's website here
Are reports of a further strike true?
Yes.
A four-hour ground strike involving air-transport ground staff and the personnel of some foreign airlines also kicks in at 1400 local time.
In tweets: the Alitalia strike
We remind that flight list, refund and reprotection are available on https://t.co/gQ7uP92lxC or calling +390665649. pic.twitter.com/SqvfiWW8md

— Alitalia (@Alitalia) February 22, 2017
Un momento importante per scrivere un'altra storia, in Alitalia e in tutto il Settore! pic.twitter.com/n7wqPS4Bno

—

FIT

CISL

Piloti (@PilotiFitCisl) February 23, 2017