Watch: Model rescues New York teens from frozen Central Park pond
Comments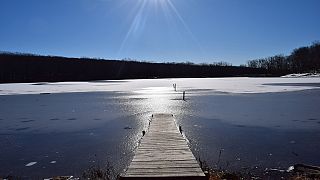 An Australian model, Ethan Turnbull, and his friend rushed to the aid of a group of young people after they fell through the ice on a pond in Central Park, New York.
Footage has surfaced on social media which shows the youngsters playing on the frozen surface, which eventually gives way as they group together to take a selfie.
Turnbull, 24 and Bennett Jonas, 23, were skateboarding in the famous park when they saw the accident occur and rushed to the teens' aid, working as a team to pull them to safety.
The model told local media: "I think they all just panicked a little bit," adding "they were overwhelmed, it was so absolutely freezing cold."
All of the teens were treated for hypothermia, with one being taken to hospital.