Stolen Dachau concentration camp gate returned
Comments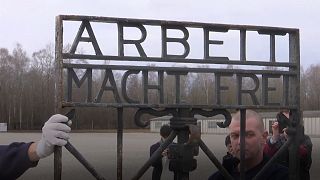 The wrought iron gate stolen from Dachau concentration camp in 2014 has been returned.
It resurfaced near Bergen, Norway, in December 2016, following an anonymous tip.
The gate, bearing the famous Nazi slogan 'Arbeit Macht Frei' – 'Work sets you free' – will be put on display at a Holocaust museum in the former camp in Upper Bavaria, Germany.
A replica, put in place in 2015, will remain at the entrance to Dachau.