Lakers hope Johnson will bring Magic back to Los Angeles
Comments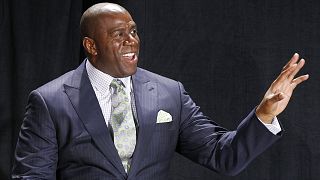 Earvin "Magic" Johnson has been named President of Basketball Operations for the struggling Los Angeles Lakers.
I have high expectations for myself, this team and our organization. The Lakers</a> are about winning and I'll work hard to make that happen. <a href="https://t.co/LVTANwY7uL">pic.twitter.com/LVTANwY7uL</a></p>— Earvin Magic Johnson (MagicJohnson) 22 février 2017
In a swathe of changes, the Lakers legend was tasked with bringing back some of the glory days that saw him win five titles for the NBA franchise in the 1980s.
But the shakeup came at a cost: Lakers Governor Jeanie Buss sacked General Manager Mitch Kupchak and her own brother Jim Buss, from his role as Executive Vice President of Basketball Operations.
The Lakers are currently in the midst of one of the worst on-court stretches in their history, sitting second-last in the Western Conference.
So fans will be hoping Johnson can bring some Magic back to LA.
Earlier this month the Lakers hired Johnson to advise ownership on basketball and business in a role the team said would include collaborating with coaches, evaluating and mentoring players and assessing future franchise needs.
Johnson, 57, ended his 12-year playing career with the Lakers in 1991 after he was diagnosed with HIV, and staged a brief NBA comeback in 1996.