German government approves measures to fast-track deportations
Comments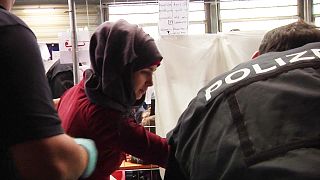 The German cabinet has agreed a raft of new measures aimed at streamlining the deportation of failed asylum seekers.
The proposals also make it easier for security forces to track migrants by allowing them to monitor mobile phone data.
Currently authorities in Germany need prior consent to do this. Supporters say the move will make it easier to identify an asylum seeker's country of origin.
The decision by Chancellor Angela Merkel's cabinet, which still needs to go before parliament, has been criticised by rights groups.
Over the weekend, the German government's coordinator for refugee affairs Peter Altmaier reportedly said he expects to deport a record number of people in 2017.
German officials are also reported to have asked the EU to relax some human rights safeguards so that more asylum seekers can be deported while awaiting the outcome of their cases.
Earlier on Wednesday, a group of around 50 migrants were flown back to Afghanistan from Munich.