Distressing footage shows fast-moving tyre floor pedestrian in Brazil
Comments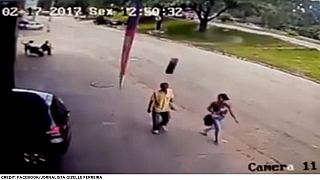 This is the moment CCTV captured a man being knocked to the ground by a stray tyre.
The man, named by local reports as Roberto Carlos Fernandes, was floored as he walked past a Continental tyre store in Ipatinga, eastern Brazil.
The 50-year-old suffered chest and face fractures but was later reported to be in a stable condition in hospital.
The tyre is thought to have come from a trailer being towed on the nearby road.