Davis seeks to ease migrants' post-Brexit fears
Comments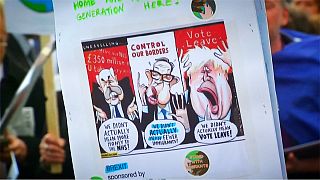 Britain has moved to assure Latvians living in the UK that it will guarantee their rights after it pulls out of the EU.
Speaking on a visit to Riga, alongside Latvia's Foreign Minister Edgars Rinkevics, Brexit Secretary David Davis said "they'll have all the rights they have now".
"We want to see the most civilised and the most responsible arrangement possible. We want to see Latvian citizens in the UK have all the rights they have now continue into the future. And it's not just the residence rights, that's public services, it's healthcare, it's all the normal rights that we would give to our own citizens."
Hundreds of people demonstrated outside parliament on Monday in support of migrants living and working in Britain.
The protest was part of a day of events called "One day without us" to highlight migrants' contribution to the country