US Defense Secretary warns of "long-fought" battle in Iraq
Comments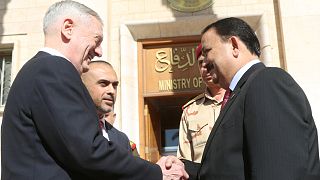 The US Defense Secretary Jim Mattis has been meeting Iraqi leaders on a surprise visit to the country.
The retired Marine general, who led American troops in Iraq, is making his first trip there as Pentagon chief and sought to assure military commanders that the battle against Islamic State militants will be long and hard-fought.
What we have seen here is actually I think a newfound understanding among the Iraqi people about what it means to be an Iraqi country against this kind of threat. At the same time this is not a threat that is going to go away overnight so we all recognise this is a going to be a long-fought battle," said Mattis.
Mattis is in the country to assess the fight against Islamic State as the US is looking for a plan to accelerate the campaign which could lead to an additional deployment of American soldiers, who currently number less than 6,000 in Iraq and Syria.