Trial begins for Turkish president 'attempted assassination' plotters
Comments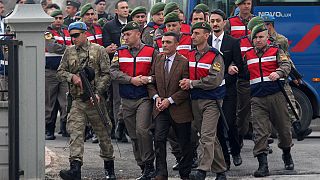 In Turkey a trial has begun for 47 people accused of plotting to kill President Recep Tayyip Erdogan last July.
The group, mostly soliders, are charged with half a dozen crimes including attempting to assassinate the president and trying to overthrow the government.
Outside the specially arranged courthouse, Erdogan's supporters called for the re-introduction of capital punishment for those found guilty.
"All of our citizens living in this country stood up for Turkey's sovereignty, including (opposition parties) CHP and MHP. This is not only about Tayyip Erdogan," said Nihat Ozturk, a member of the AK Party's Mugla branch.
The trial is taking place in the southwestern city of Mugla, not far from the luxury resort in Marmaris where Erdogan and his family narrowly escaped the soldiers, fleeing in a helicopter shortly before their hotel was attacked.
Since the failed coup, more than 40,000 people have been arrested and more than 100,000 sacked or suspended from the military, civil service and private sector.
Turkey launched its first criminal trial related to the coup in December and more trials are expected.