Germany's Schauble denies 'Grexit' threat
Comments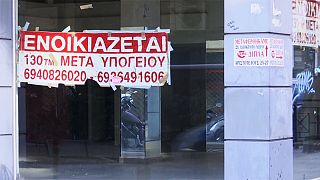 German finance minister Wolfgang Schäuble has said he is confident ''Greece is on the right economic path''.
If Greece carries out the reforms, there won't be any problems

German finance minister
His comments come ahead of a key Eurogroup meeting in Brussels on Monday to discuss Greece's debt burden.
With fears returning over the country's future in the euro, Schäuble denied claims that he had said Greece would be forced to leave the eurozone if it failed to implement economic reforms.
"Greece has to carry out reforms. If Greece carries out the reforms, there won't be any problems. If they don't – but let me stress that Greece is carrying them out – then there will be problems," Schäuble said.
The IMF has demanded Greece be given substantial debt relief with the country due to make major repayments later this year.
In Athens, business owners say higher taxes imposed by the government are making life impossible.
"No restaurant can survive in the current economic climate, even with my knowledge and experience. No restaurant can make it under this tax system,'' restaurant owner Yannis Kouzoupis said.
Unlike the International Monetary Fund, Germany and a number of other eurozone countries oppose any debt relief for Greece. Germany has also said the country's current debt programme can only continue if the IMF joins in.
Despite that, Schäuble said he expects the IMF to contribute towards another bailout for Greece, something it has so far not done. The Fund's Director Christine Largarde and Chancellor Angela Merkel are set to meet on Wednesday.