Rare protests in Belarus spread beyond the capital
Comments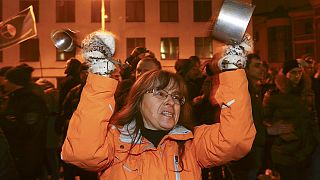 Rare protests in Belarus have spread beyond the capital Minsk to other cities where thousands have marched against a harsh new tax law.
Жааар!!!! pic.twitter.com/99Wl7eg6cp

— Андрей (@JustFray) February 17, 2017
"The Law Against Social Parasites" requires those who declare less than 183 days of work per year to pay 235 euros compensation for lost taxes – that's more than half an average monthly salary.
In the second city of Gomel on Sunday one anonymous protester railed against the tax and what she called the "fat faces" inside President Alexander Lukashenko's government.
"I have a pension of 350 euros, I worked in a kindergarten for 25 years. I spend 260 euros on public services And he has such a fat face, it will not fit in the screen soon, and the whole administration have got faces like that at our expense," she said.
Protests were also held in the third largest city of Mogilev as well as the city of Hrodna.
#Belarus#Latest New protests in several cities against govt's "social parasites" tax. Demo in #Hrodna via belamova</a> <a href="https://t.co/IHFKK5EodJ">pic.twitter.com/IHFKK5EodJ</a></p>&mdash; José Miguel Sardo (jmsardo) February 19, 2017
All the protests have been unauthorized but surprisingly the authorities have so far tolerated them.
"My whole family works, but I know people for whom spaghetti is a luxury. There are people like this, whom the well-known people call 'parasites', 'alcoholics'," an anonymous protester said.
On Friday around 2000 people protested in Minsk, many of them carrying placards attacking Lukashenko's authoritarian rule.
He's been in power for more than two decades and has crushed almost all opposition.