Former Italian PM Renzi steps down as Democratic Party leader
Comments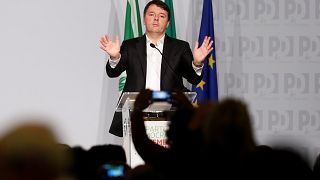 As expected Italy's former premier Matteo Renzi has resigned as leader of the Democratic Party in the hope that he can return to politics in a stronger position before an election is due early next year.
The left-wing of his centre-left party have threatened to break away which has infuriated Renzi.
"The word 'secession' is one of the most awful of the political vocabulary. Worse than this word, there is only the word 'blackmail'. It's not acceptable that a party is blocked on a minority diktat base," Renzi told a national assembly of party members in Rome on Sunday.
Italy's ruling party faces up to quandary as Renzi steps down as party leader https://t.co/tphS7pCDKA

— Wall Street Journal (@WSJ) February 19, 2017
Only in December Renzi resigned as prime minister after losing a referendum on constitutional reform.
And now Renzi is up against party dissidents such as Michele Emiliano who is also a possible contender for the leadership of the party.
And if Renzi is to become prime minister again he ultimately faces a showdown with the anti-EU populist Five Star Movement.