Hugh Jackman graces the Berlinale red carpet for the 'Logan' premiere
Comments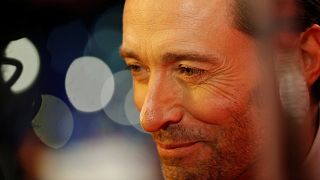 Logan, billed as the final Wolverine film, has premiered at the Berlinale film festival in the German capital.
Set in 2024, director James Mangold's latest installment in the X-Men series once more stars British actor Patrick Stewart and, of course, Hugh Jackman.
He gave euronews' cultural reporter Wolfgang Spindler the lowdown on the film.
"It's a movie about a man, a man struggling with his demons and his past and trying the best he can to deal with family, there is a lot of everyday.
"I am very excited to be here, to me it is the perfect place for a world premiere."
The awards ceremony, when the famous 'Bear' statuettes are handed out, is being held tonight (January 18) as our reporter, Wolfgang Spindler explained:
"Tonight is the awards ceremony and, here at the Berlinale, the winners usually come as a big surprise."