Huge pro-refugee protest in Barcelona
Comments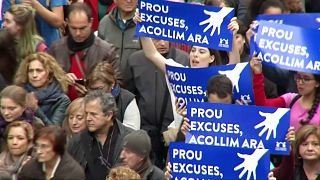 Spain has only taken in eleven hundred refugees, despite promising to accept seventeen thousand as Syria's vicious civil war and other violent conflicts rage on.
On Saturday around 160,000 people took to the streets of Barcelona in protest.
Thousands are lining the streets of Barcelona to welcome refugees and protest at Spain for closing borders #volemacollir Photo from xmuixi</a> <a href="https://t.co/PFlvciBNYS">pic.twitter.com/PFlvciBNYS</a></p>— c little (cathallittle) February 18, 2017
"People are frustrated. They don't know what to do in this situation. Especially with the shadow of far right populism all over Europe. That is why it's so important that we all go out in the street today to say that we are many, many people who want to shelter those who are waiting for us at the borders of Europe," Ruben Wagensberg, a human rights activist, said.
Later, on a city beach, a theatre company re-enacted a migrant boat successfully reaching Europe.
The Mediterranean has turned into a graveyard for migrants and refugees – 272 have died there this year alone.