Guilty or not, Francois Fillon says he'll run for president
Comments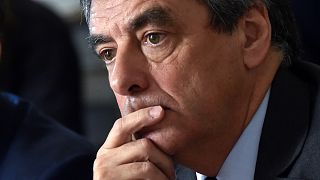 Francois Fillon has changed his mind, he will press ahead with his presidential bid even if investigators charge him over claims his wife had a fake parliamentary job.
Fillon says staying in French presidential race come what may https://t.co/1l6s6XEJN4pic.twitter.com/FafwaOPzh4

— Reuters UK (@ReutersUK) February 18, 2017
The conservative candidate's U turn is likely to encourage even more protesters to dog him on the campaign trail.
Fillon told Le Figaro newspaper that it would be outrageous to deprive the right and centre of a candidate.
Up until now he'd promised to drop out of the race if he was charged in an ongoing inquiry, now in its third week.
But he now says the investigation into whether his wife and children did work for him or whether they simply pocketed a salary is taking too long.
It's Socialist candidate Emmanuel Macron who's benefiting from Fillon's fall from grace and he's now favourite to win in a second round on May the seventh.
France: Voters of left-wing candidates #Hamon + #Melenchon w stay at home if #Fillon would run against #LePen in 2nd round (Ifop poll). pic.twitter.com/NqX7ri268R

— Europe Elects (@EuropeElects) February 17, 2017
Only two years ago Macron was almost unknown but his rise in popularity has been rapid.
He's pro-EU, as a former economy minister he's pro-business, and he appeals to the young because he's progressive on social issues.
But he's up against an older political animal.
Marine Le Pen is surfing a wave of populism, her nationalism and her scepticism about the EU and globalisation have put her in the lead.
The latest poll, if it's to be believed, puts her at 26 percent against Macron's 23 percent.