Dutch politician Geert Wilders calls Moroccans "scum"
Comments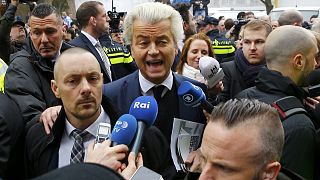 Dutch far-right politician Geert Wilders has launched his election campaign by referring to Moroccans as "scum".
Look at the Islamization, how we let terrorism into the country

Far-right Dutch politician
Wilders was campaigning in a multi-ethnic district near Rotterdam, which is a stronghold of his Freedom Party.
If he becomes prime minister he has promised to shut down mosques, ban Muslim immigration and pull the Netherlands out of the EU.
Geert Wilders, leader of the Dutch Freedom Party. geertwilderspvv</a> <a href="https://twitter.com/hashtag/KomInVerzet?src=hash">#KomInVerzet</a>. <a href="https://t.co/ioCkLlLjLI">pic.twitter.com/ioCkLlLjLI</a></p>&mdash; Defend Europa (DefendEvropa) February 16, 2017
"Look at the Islamization, how we let terrorism into the country. How we let the Moroccan scum go ahead without us doing anything against them," Wilders said.
Only in December he was convicted of inciting discrimination after leading his supporters in a chant that they wanted fewer Moroccans in the country.
Some protesters say they're worried that voters have become complacent about Wilders' extreme but populist politics.
"A lot of people have gotten used to it and they don't protest anymore, and I think it's important that you show your voice, that you don't agree with the things that are happening," said one protester, Emma Smeets.
Wilders is only just ahead of centre right Prime Minister Mark Rutte who is hoping that the recent economic recovery will favour him at the ballot box.
If he does win Wilders will struggle to form a government – most major parties say they won't enter into a coalition with him because his policies are offensive.