South Korea: Samsung's de facto boss arrested amid corruption scandal
Comments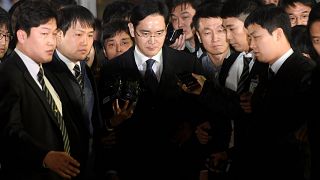 Jay Y Lee, the de facto head of the Samsung Group, has been arrested on suspicion of involvement in a corruption scandal that has led to the impeachment of South Korea's President, Park Guen-hye.
Lee is accused of paying the equivalent of some 34 million euros to business leader Choi Soon-sil and two foundations she heads in return for political favours from her friend, President Park.
The prosecutor's office now has 20 days (from February 16, 2017) to formally charge Lee.
It alleges the money represented bribes from Samsung.
South Korea court approves warrant to arrest Samsung Group chief https://t.co/EacojPVSH3pic.twitter.com/KF1tOGGCqx

— Reuters Top News (@Reuters) February 16, 2017
No arrest warrant for Samsung Electronics president
The Seoul Central court has rejected a request to issue an arrest warrant for President of Samsung Electronics Co Ltd, Park Sang-jin.
Park is also at the head of the Korea Equestrian Federation.
Denial of wrongdoing
Both Samsung and Lee deny any wrongdoing. The tech giant has conceded payments were made, but is adamant it expected nothing in return.
Lee has admitted Samsung gave a horse and money to boost Choi's daughter's equestrian career. The animal given to Chung Yoo-ra is estimated to be worth around 800,000 euros. Lee has since said he regrets the move.
Fresh evidence presented
Last month (January, 2017), the same Seoul court rejected a request by prosecutors for the issue of an arrest warrant for Lee. However, fresh evidence is now said to have come to light.
Park and Choi
President Park remains in office, but has been stripped of her powers while the investigation is underway.
South Korea's Constitutional Court has until June to uphold or overturn the impeachment decision.
She, too, denies wrongdoing, but has expressed regret for the way in which she conducted her relationship with Choi.
The businesswoman, who has been charged with coercion and attempted fraud, protests her innocence and insists she has been forced to confess.