Shrine bombing raises tensions between Pakistan and Afghanistan
Comments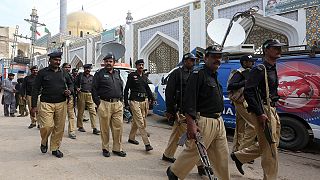 Pakistan security forces kill dozens of militants
Scores died in Sufi shrine suicide bombing
Islamabad demands Kabul hands over "terrorists"
Security forces in Pakistan have killed dozens of suspected militants.
It comes a day after ISIL said they were behind a suicide bombing that killed more than 80 worshippers at a Sufi shrine.
The Lal Shahbaz Qalandar shrine
The bombing at the famous shrine in southern Sindh province is the deadliest attack in Pakistan for two years.
At least 83 people died.
Observers say the attack highlights the threat posed by militant groups like the Pakistan Taliban and ISIL.
What was the security response like?
Swift.
"More than 100 terrorists have been killed since last night and a large number of arrests have been made," the military said in an operations update on Friday evening.
"Terrorists will be targeted ruthlessly, indiscriminately, anywhere and everywhere. No let up," an armed forces spokesman added in a tweet.
Warnings of a major escalation
With the authorities facing angry criticism for failing to tighten security before the shrine bomber struck, analysts are warning that the wave of violence points to a major escalation in Islamist militants' attempts to destabilise the region.
"This is a virtual declaration of war against the state of Pakistan," said Imtiaz Gul, the head of the independent Centre for Research and Security Studies in Islamabad.
Consequences for regional relations
The shrine attack has heightened tensions with Afghanistan.
With pressure growing for action, Pakistan has demanded that neighbouring Afghanistan hands over 76 "terrorists" it said were sheltering over the border.
Border crossings were closed on Friday.
Afghan diplomats were reportedly summoned to military headquarters in Islamabad and given a list of the "most-wanted terrorists" to be handed over.
On Friday, Afghan President Ashraf Ghani condemned the shrine attack on Twitter.
He called ISIL "a common enemy of Afghanistan and Pakistan".
A spate of attacks
The bombings over five days have hit all four of Pakistan's provinces, along with two major cities.
A series of military operations against insurgent groups operating in Pakistan had encouraged hopes their leaders were scattered.
"This has led to a degree of complacency within our civil-military leadership that perhaps they have completely destroyed these elements, or broken their back," Gul said.
Prime Minister Nawaz Sharif's foreign policy adviser Sartaj Aziz blamed Jamaat-ur-Ahrar (JuA), a Pakistani Taliban faction that has been linked to Islamic State, for the attack.
Most of the other recent attacks have been claimed by factions of the Pakistani Taliban, which is waging its own fight against the government but whose ranks have also cooperated with and sometimes defected to Islamic State.
Pakistan
A nuclear-armed nation
190 million people
Tense relations with neighbours India and Afghanistan
ISIL

's influence in Pakistan
Some observers are questioning whether the growing prominence of ISIL actually represents a fresh threat.
Its fighters are already reportedly operating under different names to attack government, army and minority faith targets, among others.
The increasing number of attacks claimed by ISIL has raised pressure on authorities to show they are capable of containing the renewed violence.