Belarusians denounce 'law against social parasites'
Comments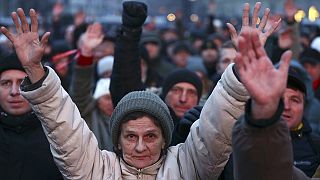 Around 2,000 Belarusians have taken to the streets to rally against a law imposing a tax on those not in full-time employment.
Nicknamed the 'law against social parasites," the decree requires people who work fewer than 183 days per year to pay the government compensation for lost taxes, which amounts to 235 euros.
Minsk resident Vitaly Spinkin is unemployed.
"It is not a decree it is insanity, it is absurd. I did not receive these unemployment benefits although I could. And I have saved the government money. And now it means I am under the decree and I have to pay them from income that I do not have. It's racketeering," he said.
Following two years of economic recession, many Belarusians are struggling to make ends meet.
Fellow Minsk resident Alexei was also at the demonstration.
"Today is not about me. Today is about them. But I could be in their place tomorrow or they could come up with something else. So I believe it to be my duty to express my solidarity with the unemployed."
The protest is one of the country's biggest in recent years. Since 1994, Belarus has been run by President Alexander Lukashenko, a man who has described himself as the 'last dictator in Europe.'